This is the place for your weekly update! Find out what's going on in the life of our church and stay informed with current announcements. This is to help connect you with the ministry of Fair Oaks Church.
Feel free to reach out and
contact us
if you have questions!
8:30a & 10a - in person and online
We are now open for in person Sunday worship services indoors at 50% capacity, and will continue to take safety measures for those meeting on our church campus. We are excited to worship together in the Worship Center and offer programs for kids (babies-5th grade) and students! If you want more details about what to expect for in person services, or click the button below.
If you aren't able to come in person, you can join us for worship every Sunday when we live stream services at
fairoaks.online.church
. The early service will feature more traditional music, while the second service is more contemporary. Both services will have the same unified message! Click the button below for more about online services. You can also watch services on demand anytime
here
.
Join us for an 8-week journey learning from the book of Nehemiah! God rebuilt a wall, a city, and ultimately, His people in only 52 days! We too are in a season of rebuilding. God has much to teach us from this book and He desires to rebuild our faith and repair our connection to Him and each other! If you or someone you know has been feeling discouraged after this past year, this series is for you!
sunday services - may 9, 2021
WORSHIP TEAM:
Lauren Ross - Worship Director
Pastsy Conner & Jennifer Rustad - Vocalists
Stephen Drew - Organist 8:30a
Jim Martinez - Pianist 8:30a
Jennifer Rustad - Keys 10a
Austin Mua - Acoustic Guitar
David Rabov - Electric Guitar
Sean Fegan - Bass
Ronin Ewell - Drums
spring session of groups
begins this week!
Another 10-week session of small groups are back starting the week of April 25! If you are looking for a way to connect with others and be part of a community, you should join a group! We have a variety of groups that are meeting both in person and online. Let us know plug you into a group! Learn more and contact our team below.
big day of service - May 1 & 2
collecting food & school supplies
We are collecting food to support the Orangevale-Fair Oaks Food Bank in conjunction with Big Day Of Service. We are also collecting school supplies to support local teachers! You can drop off donations on Saturday, May 1 between 9am-Noon at the front of the church or on Sunday, May 2 when you're on campus for in person services. Get more details about needed items for the food bank and teachers here. Want to get more info about how you can get involved serving at Big Day Of Service this year? Sign up at
bigdayofservice.com
.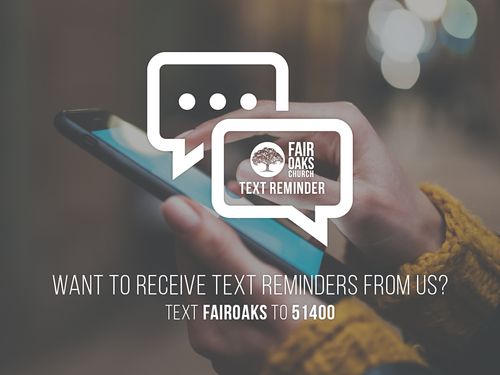 Would you like to receive text reminders and notifications from us? Signing up is easy! Just text FairOaks to 51400 to get on the list. Whenever we send out a reminder about an upcoming event or church announcement you will get a text! This is a quick and easy way you can stay informed!
Here's another way you can listen to Sunday messages! Search for Fair Oaks Church Sermon Podcast on Spotify or iTunes to find all our weekend sermons. Also check out the Fair Oaks Cafe Podcast - which features discussions with our Pastors and team about life and faith beyond Sundays. Follow and share with others!
March 2021
Income $139,272
Expenses $224,622
Net Loss $85,350
kids & youth Center
loan balance
make a financial commitment to fair oaks church
We are grateful for your generous support of the ministry of our church, especially during this difficult financial season. We are asking for your continued faithful and prayerful financial partnership in 2021. Every fall we ask our church family to prayerfully consider making a commitment to give for the next calendar year. We mailed out pledge cards, but you can also submit one online. Click the button below to learn more about giving options, submit a pledge card or give a gift online today.Thank you for your support of the ministry of Fair Oaks Church!


Please join us in praying and caring for those who have lost loved ones in this difficult season.
The sympathy of our congregation extends to the families and friends of:
Kathi Woodman - 2/5/20
Phil Burke - 3/12/20
Vic Callen - 4/2/20
Carol Johnson - 4/3/20
Challis McKinley - 5/12/20
Evelyn Hattrup - 5/22/20
Marty Lyons - 5/29/20
Ed Jensen - 6/11/20
Jan Clifton - 7/14/20
Betsy Wittsell - 7/26/20
Wanda Bell - 9/7/20
Jim Grey - 9/27/20
Dick Eriksson - 10/12/20
Gary Connors - 11/7/20 (Son of Ruth Connors)
Lu Auslam - 11/4/20 (MIL of Roger Kamstra)
Harold Esola - 11/16/20
Judy Clark - 11/20/20
Russ Heberlein - 12/6/20
Clark Hime - 12/16/20
Bob Yeager - 12/21/20
Ray Myers - 12/26/20
Mary Ann Kruser - 12/31/20
Charlotte Porter - 1/18/21
Harry Hutton - 1/22/21
Elaine Penny - 4/23/21


online annual meeting
sunday, november 15th
In case you missed our annual meeting, here is a recording of our Zoom meeting.

We are grateful for God's faithfulness this year and look forward to where He will take our church in 2021!
Ready for your next step? Our hope is that you'll connect with Fair Oaks Church in a meaningful way, taking steps to grow as a follower of Jesus.
We would be honored to pray for you or someone you know. You can submit your prayer requests anytime and our Pastors will pray for you during the week.
As a church, we value generosity and commit to being irrationally generous with everything we have. Find out how you can invest in what God is doing through Fair Oaks.
Learn more about our church and get to know our Pastors, Elders and staff.
are you new to fair oaks church?
WE'D LOVE TO WELCOME YOU& answer questions.
Fill out this form so can follow up with you!