This is the place for your weekly update! Find out what's going on in the life of our church and stay informed with current announcements. This is to help connect you with the ministry of Fair Oaks Church.
Feel free to reach out and
contact us
if you have questions!
9a & 10:30a - in person and online
Join us in the Worship Center for services at 9a and 10:30a in person or online. We offer programs for kids (babies-5th grade) and students! If you want more info about what to expect for in person services or how you can worship with us online, learn more below.
YOUR kINGDOM cOME: A study of the book of Matthew
Who is Jesus and what is his Good News according to Matthew, the tax collector, who became one of Jesus' earliest followers? Join us as we journey through the book of Matthew and discover Jesus the King and learn about the new Kingdom he invites us to live in. We'll be spending the next few months seeing Jesus through Matthew's eyes, learning his true identity and studying the countercultural Kingdom of God Jesus was always teaching about. Everyone is invited to join us and be transformed like Matthew was!
For kids ages 3 years - entering 5th grade
Make Waves: What you do today can change the world around you!
This day camp program for kids is going to be FUN! Cost for camp is $75 (May 16 - June 9). Each day kids will meet on campus from 9am-noon on June 13-17 (M-F) for summer fun!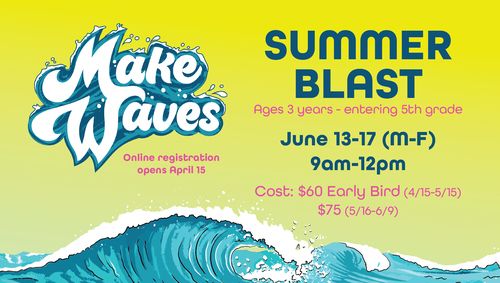 fundraiser events for team trip
Friday, June 3rd is dodgeball night! Join us from 6-8:30pm in the gym (Family Life center) for a fun evening of some friendly competition! Come to play dodgeball or cheer on participants. Entry fee is $5 per person and there will be food and desserts available for purchase.
Sunday, June 5th is our car wash fundraiser! Bring your car in the back parking lot starting at 10a. Our team will wash it! All donations go to help fund the team trip to La Esperanza and partner with
Mexican Medical Ministries
in San Quintín, Mexico.
There are opportunities for you to be FOR kids! Our upcoming day camp for ages 3-5th grade is happening July 13-17 from 9a-noon. We are also in need of volunteers to help with our Kids Ministry program on Sunday mornings at 9a and 10:30a for elementary ages. If you're interested in helping support Kids Ministry in these ways, fill out the form below.
If you were unable to attend Sisterhood on May 20th, you can listen to Carol Benstead's message on Psalm 37 about how we can choose to trust God in all circumstances. Click below to listen to her talk. The next Sisterhood event will be in the fall - either August or September.
MIDDLE SCHOOL & HIGH SCHOOL
Hume Lake is a premier summer camp experience where students experience God in a new and vibrant way, grow their community and have so much FUN! Both Middle School and High School students will be at Hume July 10-16, 2022.
WE HAVE LIMITED SPOTS AVAILABLE
Cost: $765 per student ($150 deposit will be due at time of registration)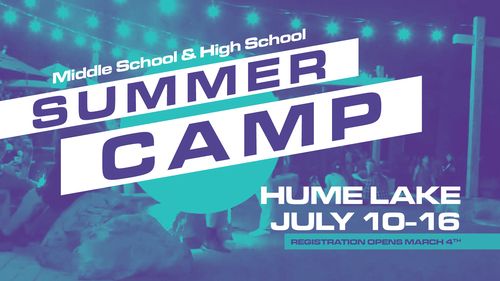 make a financial commitment to fair oaks church
We are grateful for your generous support of the ministry of our church, especially during this difficult financial season. We are asking for your continued faithful and prayerful financial partnership in 2022. Every fall we ask our church family to prayerfully consider making a commitment to give for the next calendar year. We mailed out pledge cards, but you can also submit one online. Click the button below to learn more about giving options, submit a pledge card or give a gift online today. Thank you for your support of the ministry of Fair Oaks Church!


Explore open positions we are looking to fill and learn more about how you can join our team!
The Next Gen/Teaching Pastor oversees and provides leadership to our kids and student ministries, will be the primary leader of our college and young adults (CYA), serve on our leadership team and have a regular teaching presence.
bob Quadro's class
Book of isaiah
Bob Quadro will be teaching a class on the book of Isaiah Sunday mornings at 10:30am in person in the Family Life Center and on Zoom. He will also have an option to tune into this class on Zoom on Wednesday nights. For more information about classes and Zoom links please click below.
community bible study
beginning september 9
Anyone can participate in this interdenominational, in-depth Bible study! This group meets at
Centerpoint Community Church
on Thursdays (7-8:45pm) starting September 9, 2021 through May 12, 2022. You can come in person or join the group virtually (Saturday mornings). If you want more information please contact Ron Rivett directly (916-217-3838) or register below.
outreach basketball
now meeting on campus
This group is open to anyone who are interested in coming out to play basketball! Both men and women of all ages are welcome. The gym located in the Family Life Center on our church campus will be open on Sundays between 4-7pm. Players may bring their children, but they are responsible for them and must remain in the gym area.

For more information please contact Doug Veale by phone or email.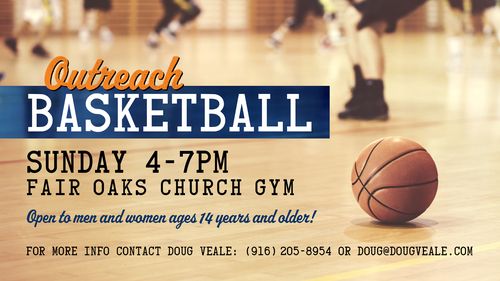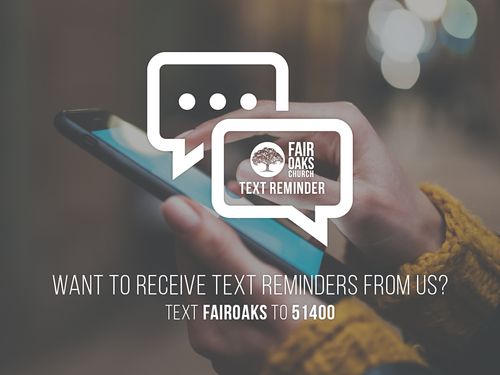 Would you like to receive text reminders and notifications from us? Signing up is easy! Just text FairOaks to 51400 to get on the list. Whenever we send out a reminder about an upcoming event or church announcement you will get a text! This is a quick and easy way you can stay informed!
Here's another way you can listen to Sunday messages! Search for Fair Oaks Church Sermon Podcast on Spotify or iTunes to find all our weekend sermons. Also check out the Fair Oaks Cafe Podcast - which features discussions with our Pastors and team about life and faith beyond Sundays. Follow and share with others!
worship services - may 22, 2022
WORSHIP TEAM 9A:
Lauren Ross - Worship Leader
Jerri Meier & Michael Cunningham - Vocals
Jim Martinez - Piano
Stephen Drew - Organ




WORSHIP TEAM 10:30A:
Lauren Ross - Worship Leader
Jennifer Rustad - Vocals
Austin Mua - Vocals & Acoustic Guitar
Kyle Strong - Electric Guitar
Jevon Rogers - Bass Guitar
Ronin Ewell - Drums
Jim Martinez - Piano
April 2022
Income $134,354
Expenses $212,254
Net Loss $77,900
kids & youth Center
loan balance
Please join us in praying and caring for those who have lost loved ones in this difficult season.
The sympathy of our congregation extends to the families and friends of:
Charlotte Porter - 1/18/21
Harry Hutton - 1/22/21
Shirley Rasmussen - 2/20/21
Elaine Penny - 4/23/21
Betty Meyer - 5/31/21
Judy Shadman - 7/16/21
Philip Jordan - 8/15/21
Hal (Harrold) Olling - 9/11/21
Betty Ricketts - 10/9/21
Eric Northman - 11/25/21
Judith Syftestad - 11/28/21
Wally Drotts - 12/2/21 (
Celebration of Life Service Details
)
Merrill Wunder - 12/14/21
Kristen Holt - 12/27/21
Mary Somers - 2/22/22
Rina Akley - 4/10/22
Kelly Thomas - 4/10/22
Jim Trout - 4/10/22
Lloyd Simons - 4/17/22
Kathy Bailey - 4/25/22
Ready for your next step? Our hope is that you'll connect with Fair Oaks Church in a meaningful way, taking steps to grow as a follower of Jesus.
We would be honored to pray for you or someone you know. You can submit your prayer requests anytime and our Pastors will pray for you during the week.
As a church, we value generosity and commit to being irrationally generous with everything we have. Find out how you can invest in what God is doing through Fair Oaks.
Learn more about our church and get to know our Pastors, Elders and staff.