This is the place for your weekly update! Find out what's going on in the life of our church and stay informed with current announcements. This is to help connect you with the ministry of Fair Oaks Church.
Feel free to reach out and
contact us
if you have questions!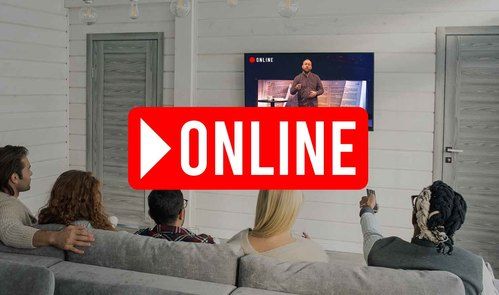 LIVE streaming sundays 8:30a & 10a
Since we are back in the Purple Tier, we are fully online! We live stream our Classic service at 8:30a and our Contemporary service at 10a every Sunday at
fairoaks.online.church
or on
Facebook Live
. Services will feature different worship music but the same unified message! You can also watch services on demand anytime
here
.
STARTING JANUARY 3

Everyone is looking forward to a new year, especially 2021! There is a lot we cannot control or change about 2020 but... what we can decide is what we will do this year and who we will become together in 2021! COVID and quarantine have exhausted us, but God is looking to re-energize His Church and expand his Kingdom. How can we look forward with hope to what God wants to do in and through us in 2021 like never before? Come find out!
God's plan for your life is that you would meet a specific need in our church family and in your world with the gifts He has given you. Your gifts are vital to the work of God in our church and beyond its walls! Make 2021 the year you decide to find out how God has gifted you and start living out your calling! God is looking for people to use their unique spiritual gifts - and step one is knowing what they are! Take this assessment to help discover what your spiritual gifts are and our team will respond with your results and how you can utilize your gifts with the ministries of our church.
groups launch
on January 31
We have all felt the difficulty of distance in this season. We have missed not regularly gathering in person where we could so easily see and connect with one another. However, we remain committed to experiencing community whatever ways we can! Your connection to a small community is essential to your spiritual health and growth - now more than ever before! Sign up to join a group online for this 10-week session starting January 31, 2021.
Normally, this time of year we partner with the local HART organization to open our facilities to shelter, feed and clothe to the homeless in our community. Like most things, COVID-19 has impacted our ability to do this like we have in the past. However, there are some other opportunities to help!
Citrus Heights HART
will be conducting a winter warming station at various Citrus Heights churches for five weeks starting in January of 2021. If you'd like to volunteer to help make lunches or are interested in possibly getting involved in other ways please contact Lauri Balbi at
Lbalbi@fairoaks.church
.
family game night
january 20th
This is a chance for mom, dad, and kids of ALL ages to come together and play a game with other families from fair oaks on zoom. Feel free to invite cousins or friends to jump on with us and compete.
Join us on Zoom at 6:30PM on January 20th
. Our trivia game should last about 15-20 minutes and we will crown the winning family with a Door Dash gift card! We hope you'll join us for fun night together! Find the Zoom link below and
contact
our team if you have questions.
Zoom Meeting ID: 916 967 4784 | Password: famjam21
make a financial commitment to fair oaks church
We are grateful for your generous support of the ministry of our church, especially during this difficult financial season. We are asking for your continued faithful and prayerful financial partnership in 2021. Every fall we ask our church family to prayerfully consider making a commitment to give for the next calendar year. We mailed out pledge cards, but you can also submit one online. Click the button below to learn more about giving options, submit a pledge card or give a gift online today.Thank you for your support of the ministry of Fair Oaks Church!


online annual meeting
sunday, november 15th
In case you missed our annual meeting, here is a recording of our Zoom meeting. If you have any questions or want to contact our team, you can email
Session@fairoaks.church
which goes directly to our elders, and/or
LT@fairoaks.church
to contact our leadership team on staff.
We are grateful for God's faithfulness this year and look forward to where He will take our church in 2021!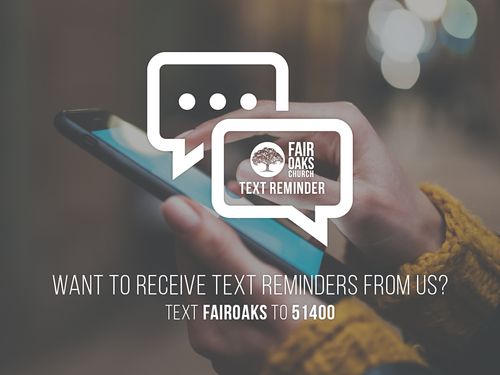 Would you like to receive text reminders and notifications from us? Signing up is easy! Just text FairOaks to 51400 to get on the list. Whenever we send out a reminder about an upcoming event or church announcement you will get a text! This is a quick and easy way you can stay informed!
If you are a young adult and could use community during this season, we recommend joining this Bible study group led by Andy and Yvonne Robertson! If you have questions or would like to join call or text Andy at 916-743-2653 or Yvonne at 916-743-2654. We look forward to seeing you!
Please join us in praying and caring for those who have lost loved ones in this difficult season.
The sympathy of our congregation extends to the families and friends of:
Kathi Woodman - 2/5/20
Phil Burke - 3/12/20
Vic Callen - 4/2/20
Carol Johnson - 4/3/20
Challis McKinley - 5/12/20
Evelyn Hattrup - 5/22/20
Marty Lyons - 5/29/20
Ed Jensen - 6/11/20
Jan Clifton - 7/14/20
Betsy Wittsell - 7/26/20
Wanda Bell - 9/7/20
Jim Grey - 9/27/20
Dick Eriksson - 10/12/20
Gary Connors - 11/7/20 (Son of Ruth Connors)
Lu Auslam - 11/4/20 (MIL of Roger Kamstra)
Harold Esola - 11/16/20
Judy Clark - 11/20/20
Russ Heberlein - 12/6/20
Clark Hime - 12/16/20
Bob Yeager - 12/21/20
Ray Myers - 12/25/20
Mary Ann Kruser - 12/31/20


December 2020
Income $377,022
Expenses $199,531
Net Income $177,491


kids & youth Center
loan balance
Ready for your next step? Each of us are on a faith journey. Our hope is that you'll connect with Fair Oaks Church in a meaningful way, taking steps to grow as a follower of Jesus.
We would be honored to pray for you or someone you know. You can submit your prayer requests anytime and our Pastors will pray for you during the week.
As a church, we value generosity and commit to being irrationally generous with everything we have. Find out how you can invest in what God is doing through Fair Oaks.
get to know our pastors, elders & staff
are you new to fair oaks church?
WE'D LOVE TO WELCOME YOU!
Fill out this form so can follow up with you!