This is the place for your weekly update! Find out what's going on in the life of our church and stay informed with current announcements. This is to help connect you with the ministry of Fair Oaks Church.
Feel free to reach out and
contact us
if you have questions!
update about in person sunday services
As the number of COVID cases continue to rise in our area, Sacramento County announced that we are moving back to the Purple tier effective this Friday, November 13th. Unfortunately, this will impact our ability to facilitate gatherings indoors.
We will be moving all our services online starting this Sunday, November 15th.
We will be streaming services at 8:30a and 10a. You can join us during these streaming times or watch our services on demand
here
.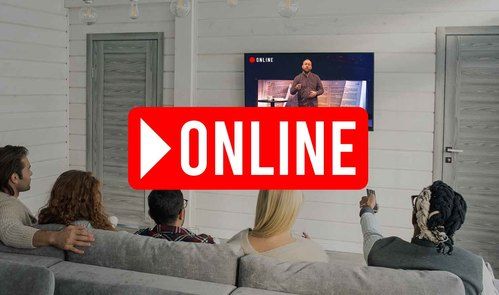 streaming sundays 8:30a & 10a
We have an online service option! We live stream our Classic service at 8:30a and our Contemporary service at 10a every Sunday at
fairoaks.online.church
or on
Facebook Live
. Services will feature different worship music but the same unified message! You can also watch services on demand anytime
here
.
ADVENT STARTS NOVEMBER 29

Starting on November 29th, you are invited to celebrate Advent with us at Fair Oaks Church! We stream services on Sundays at 8:30a and 10a at fairoaks.online.church or on Facebook Live. You can also watch services on demand at fairoaks.church after streaming times. After a year full of so much change and unfamiliarity, come and celebrate the familiar story of the unchanging God that came down to earth to live with us and love us.
Rediscover hope, peace, joy and love this Christmas season!
make a financial commitment to fair oaks church
We are grateful for your generous support of the ministry of our church, especially during this difficult financial season. We are asking for your continued faithful and prayerful financial partnership in 2021. Every fall we ask our church family to prayerfully consider making a commitment to give for the next calendar year. We mailed out pledge cards, but you can also submit one online. Click the button below to learn more about giving options, submit a pledge card or give a gift online today.Thank you for your support of the ministry of Fair Oaks Church!


christmas kickoff - Saturday, December 5
We love starting the Christmas season with decorating gingerbread houses! Our Christmas Kickoff celebration will look a little different this year, but we are determined to do it one way or another! We invite you to come for gingerbread house decorating outdoors on our plaza (weather permitting) at either 10am or 2pm on Saturday, December 5th! You can also come between 12-1pm to pick up a decorating kit to bring home. Gingerbread Houses are $20 each (includes some candy, houses will be pre-assembled). Ticket sales are open! Pasta A La Mode will also be on campus from 11am-2pm if you want to purchase delicious lunch!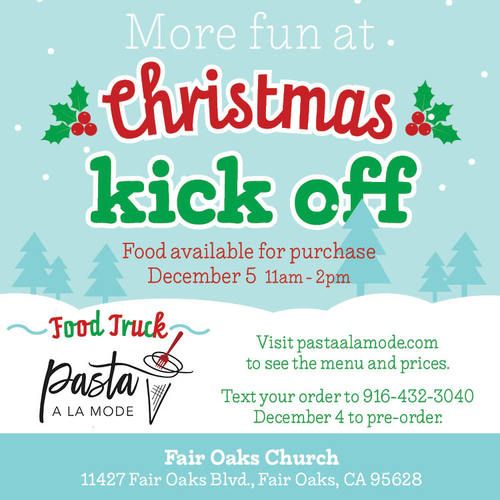 We are putting on a Toy Drive on Saturday, December 12th We are hoping to collect Christmas gifts for 250 kids in our community! These gifts will go to under-resourced families associated with the Sayonara Center in Citrus Heights, Northridge Elementary School, and Hope Church in Oak Park. Pick a gift category and purchase a gift or combination of gifts between $20-25. You can drop off unwrapped toys at church between 9am-noon and our team will be there to safely receive them, get them wrapped and ready to deliver by Christmas. This is another way we are reaching out to love our neighbors this holiday season so we invite you to participate. If you have questions or want more information contact our Missions Director,
Lauri Balbi
.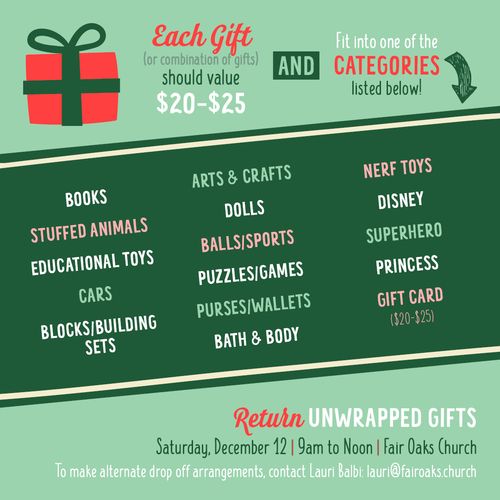 online annual meeting
sunday, november 15th
In case you missed our annual meeting, here is a recording of our Zoom meeting. If you have any questions or want to contact our team, you can email
Session@fairoaks.church
which goes directly to our elders, and/or
LT@fairoaks.church
to contact our leadership team on staff.
We are grateful for God's faithfulness this year and look forward to where He will take our church in 2021!
sign up for text reminders
Would you like to receive text reminders and notifications from us? Signing up is easy! Just text
FairOaks
to
51400
to get on the list. Whenever we send out a reminder about an upcoming event or church announcement you will get a text! This is a quick and easy way you can stay informed!
We hope this is another channel that helps you stay connected with our church during this unique season. If you have questions about this please contact Renn at
rscott@fairoaks.church
.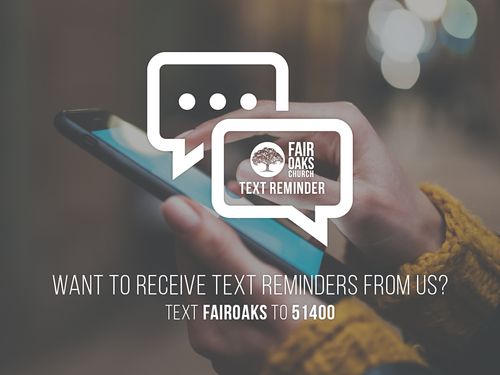 small group
for young adults
If you are a young adult and could use community during this season, we recommend joining this Bible study group led by Andy and Yvonne Robertson! Come for lunch on Sundays at the Robertson home or join us on Zoom at 2pm as we dig deeper discussing the message. If you have questions or would like to join call or text Andy at 916-743-2653 or Yvonne at 916-743-2654. We look forward to seeing you!
volunteers needed at local distance learning centers
In this season of distance learning, some of our local ministry partners in Folsom, Citrus Heights and Oak Park have opened their facilities to students to provide support as they distance learn. They need volunteers to help host these learning centers and support students as needed. They have morning and afternoon shifts available. Some ministries require fingerprinting. If you are interested and willing to help please contact
Lauri Balbi
directly and she will provide more specifics!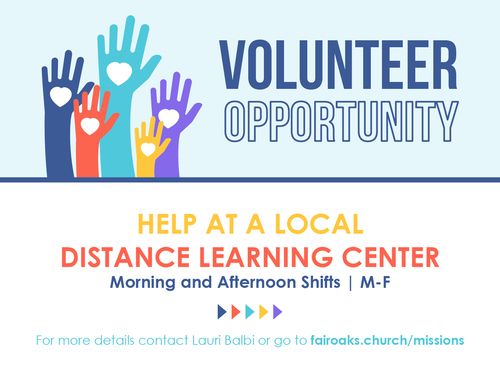 Please join us in praying and caring for those who have lost loved ones in this difficult season.
The sympathy of our congregation extends to the families and friends of:
Kathi Woodman - 2/5/20
Phil Burke - 3/12/20
Vic Callen - 4/2/20
Carol Johnson - 4/3/20
Challis McKinley - 5/12/20
Evelyn Hattrup - 5/22/20
Marty Lyons - 5/29/20
Ed Jensen - 6/11/20
Jan Clifton - 7/14/20
Betsy Wittsell - 7/26/20
Wanda Bell - 9/7/20
Jim Grey - 9/27/20
Dick Eriksson - 10/12/20
Gary Connors - 11/7/20 (Son of Ruth Connors)
Lu Auslam - 11/4/20 (MIL of Roger Kamstra)
Harold Esola - 11/16/20
Judy Clark - 11/20/20


October 2020
Income $149,710
Expenses $215,118
Net Loss $65,408
kids & youth Center
loan balance
Ready for your next step? Each of us are on a faith journey. Our hope is that you'll connect with Fair Oaks Church in a meaningful way, taking steps to grow as a follower of Jesus.
We would be honored to pray for you or someone you know. You can submit your prayer requests anytime and our Pastors will pray for you during the week.
As a church, we value generosity and commit to being irrationally generous with everything we have. Find out how you can invest in what God is doing through Fair Oaks.
get to know our pastors, elders & staff
are you new to fair oaks church?
WE'D LOVE TO WELCOME YOU!
Fill out this form so can follow up with you!