This is the place for your weekly update! Find out what's going on in the life of our church and stay informed with current announcements. This is to help connect you with the ministry of Fair Oaks Church.
Feel free to reach out and
contact us
if you have questions!
church indoors starting 10/25
We have enjoyed church outside on the plaza, but with the weather getting cooler restrictions being lifted to allow for indoor gatherings, we are moving Sunday services inside! We are offering 3 Sunday services and programs for Kids and Students too! Get all the details about the safety precautions we are taking and what you can expect worship services to be like! Be sure to
RSVP
as we have capacity limitations of 100 people per service. If you are more comfortable, worship with us
online
!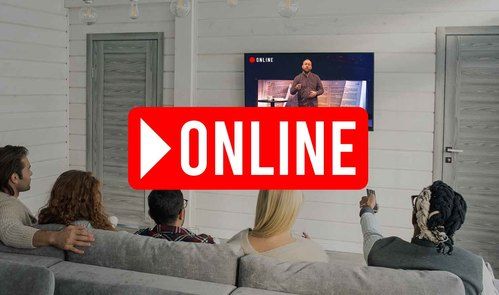 stream sundays 8:30a & 10a
We have an online service option! We stream our Classic service at 8:30a and our Contemporary service at 10a every Sunday at
fairoaks.online.church
or on
Facebook Live
. Services will feature different worship music but the same unified message! You can also watch services on demand anytime
here
.
ood news (because it's 2020 and we need some!) We worship a God that is GREATER THAN the fears and frustrations we are feeling in this season. Join us for a series that is designed to help us all very practically deal with the divisiveness and polarization that is ramping up in our world! We will be reminded of what is greater - His Kingdom, His Love and reflecting His character. In the midst of a pandemic, social unrest, and the approaching election, what does it look like for followers of Christ to be the peacemakers? What does it look like for the people of God to be the people of love in the midst of a culture that is fueling the fires of incivility and division? Come find out! Invite a friend to join you in person or online starting October 25th.
trunk or treat - October 30
We are bringing back an old favorite to provide a safe trick-or-treating option for our church family and community. We'll transform our back parking lot into a family-friendly environment. More details about this event and safety precautions below.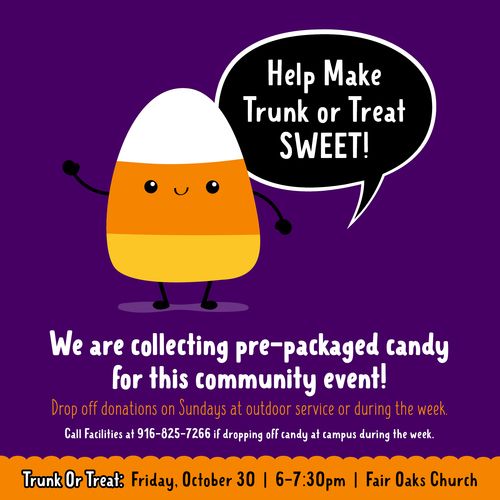 Another way you can help support this event is by donating candy! We will be needing LOTS of candy, so anything helps! You can bring donations to the church on Sundays or during the week, just call the Facilities Team when you arrive to drop off (916-825-7266).
sign up for text reminders
Would you like to receive text reminders and notifications from us? Signing up is easy! Just text
FairOaks
to
51400
to get on the list. Whenever we send out a reminder about an upcoming event or church announcement you will get a text! This is a quick and easy way you can stay informed!
We hope this is another channel that helps you stay connected with our church during this unique season. If you have questions about this please contact Renn at
rscott@fairoaks.church
.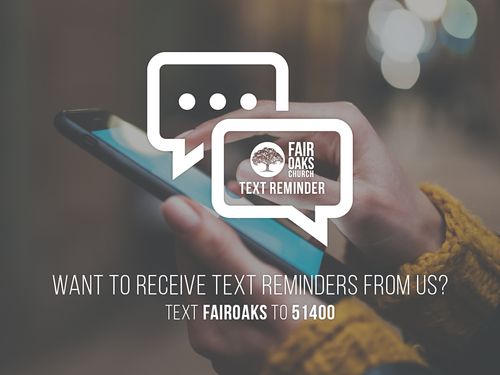 small group
for young adults
If you are a young adult and could use community during this season, we recommend joining this Bible study group led by Andy and Yvonne Robertson! Come for lunch on Sundays at the Robertson home or join us on Zoom at 2pm as we dig deeper discussing the message. If you have questions or would like to join call or text Andy at 916-743-2653 or Yvonne at 916-743-2654. We look forward to seeing you!
volunteers needed at local distance learning centers
In this season of distance learning, some of our local ministry partners in Folsom, Citrus Heights and Oak Park have opened their facilities to students to provide support as they distance learn. They need volunteers to help host these learning centers and support students as needed. They have morning and afternoon shifts available. Some ministries require fingerprinting. If you are interested and willing to help please contact
Lauri Balbi
directly and she will provide more specifics!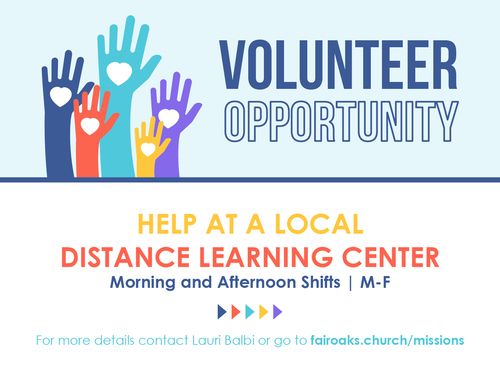 operation christmas child
It's almost that time of year! We have the opportunity to package a shoebox of gifts to send to a child in need around the world! If you or your family want to participate you can pick up supplies at church on Sundays at the 8:30am services (starting 10/4) or you can also use your own shoebox. See below for guidelines and ideas for what to include. We are asking that all shoeboxes be returned by November 8th. Our church will also be a community collection center the week of November 16-23. If you have questions or want more information contact our Missions Director,
Lauri Balbi
.
fall small groups
SeP 13 - Nov 13
We have all felt the difficulty of distance in this season. We have missed not regularly gathering in person where we could so easily see and connect with one another. As 2020 continues to challenge us, we remain committed to experiencing community however we can! This is why we want everyone to be in a group. Your connection to a small community is essential to your spiritual health and growth - now more than ever before! Join a group either outdoors or online for this 10-week session this fall.
Please join us in praying and caring for those who have lost loved ones in this difficult season. Memorial services have been postponed due to Covid-19.
The sympathy of our congregation extends to the families and friends of:
Kathi Woodman - 2/5/20
Phil Burke - 3/12/20
Vic Callen - 4/2/20
Carol Johnson - 4/3/20
Challis McKinley - 5/12/20
Evelyn Hattrup - 5/22/20
Marty Lyons - 5/29/20
Ed Jensen - 6/11/20
Jan Clifton - 7/14/20
Betsy Wittsell - 7/26/20
Wanda Bell - 9/7/20
Jim Grey - 9/27/20
Dick Eriksson - 10/12/20


September 2020
Income $158,533
Expenses $231,615
Net Loss $73,082
kids & youth Center
loan balance
Ready for your next step? Each of us are on a faith journey. Our hope is that you'll connect with Fair Oaks Church in a meaningful way, taking steps to grow as a follower of Jesus.
We would be honored to pray for you or someone you know. You can submit your prayer requests anytime and our Pastors will pray for you during the week.
As a church, we value generosity and commit to being irrationally generous with everything we have. Find out how you can invest in what God is doing through Fair Oaks.
get to know our pastors, elders & staff
are you new to fair oaks church?
WE'D LOVE TO WELCOME YOU!
Fill out this form so can follow up with you!