Due to public health concerns related to COVID-19 there Are no on campus gatherings
Until Further Notice. Join Us Online!

Shelter in Place
Josh Hall | March 29, 2020
Most of us are being asked to "stay home" and "shelter in place." What does it look like for us to do this with God? We must decide not only what we will do in this season, but also who we will become.

Support Our Ministry at Fair Oaks Church!
If you found this message beneficial
and you would like to help continue our ministries,
we would be grateful for your support.
Stay in Rhythm with us! New Content Daily!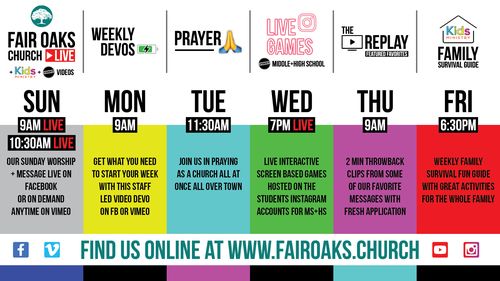 Although our buildings are temporarily closed for gatherings and meetings, our
CHURCH IS NOT CLOSED!
We give to God as an act of Worship. Our desire to worship God and serve people remains unchanged.
Our staff is still working, and our ministry partners are still serving and in need of our support. Now more than ever!
Our church is actively involved in serving in our community, delivering groceries and essentials to those in need and we need your support!
One of the most practical ways
YOU can help right now
is to faithfully support your church financially.
Give now or sign up for automatic giving at
fairoaks.church/give
or click the button below.
Follow us on social media.